Sheds and Workshops
Unlike traditional buildings, pre-cast concrete buildings are quick to erect and can be easily extended or re-sited making them ideal for use as a workshop.
We can supply buildings of all shapes and sizes, incorporating extra high panels if necessary. The design of our pre-cast panels means that our buildings can be erected in days rather than months and can be extended with a minimum of fuss allowing them to grow with your business. They can even be dismantled and relocated, a facility not possible with traditional buildings.
If your looking for a larger building for commercial use then our industrial division can help.
---
Roomy Parker
Constructed from anodised aluminium framing and uPVC panels & roof.
All materials are either non-flammable or self-extinguishing.
The uPVC roof is moulded to shape with a joint free side-to-side format.
Translucent roof panels can be substituted for opaque panels.
The Click System Building Frame allows benches or desks to be wall-mounted easily and cost effectively.
Roomy Parkers have extra headroom with an eaves height of 7'.
---
The Modena Shed
Represents the latest developments in shed design
Frame is derived from the Click Exhibition aluminium profiles
The roof uses Leofric's joint-free moulded uPVC roof material.
The LeoWood panelling is made from an extrusion of 62% pulverised wood, 33% pulverised plastic (from recycled bottles).
---
The Popular Shed
High security
Low maintenance
White uPVC finish
Front canopy
15 Year Structural Guarantee
---
Fairford Shed
Steel reinforced, interlocking concrete panels, 7ft high for maximum storage space
One-piece Apex uPVC roof in Grey, Green or Clear for maximum light. NO ridges, NO leaks (Textured finish also available)
Damp course lip & seal arrangements to seal panels to base to minimise chance of water ingress
Fort Knox high security doors, solid & secure with multi-point locking
uPVC double glazed window units in a choice of types and sizes
15 Year Structural Guarantee
---
SecuraShed
Fort Knox high security, 3-point, 10-bolt locking 50mm, double skinned steel door with an attractive brushed steel handle and stainless steel cill
Steel reinforcing Grid Prevents entry from above 6mm diameter, 200mm square
High strength one-piece uPVC roof
Bolted to Base
All SecuraSheds fitted with 2x Vibration sensitive Alarms (90dB each)
Steel reinforcing mesh fitted with concrete panels in a range of four stone finishes
Concealed hinges - cannot be sawn through
Finished in a soft Cotswold stone as standard. Other finishes available to suit any environment
15 Year Structural Guarantee
---
Norton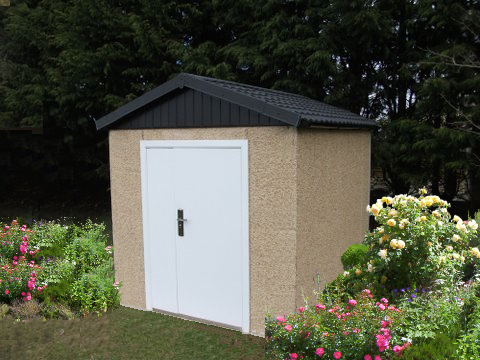 The Leofric Norton New Design
15 degree pitch Apex with a metrotile lightweight high grade steel roof
Available in up to 32 size combinations ranging from 4ft 6 x 4ft 6 to 8ft 6 x 13ft 10
Includes a Fort Knox high security door
White powder coated, double skin
Twin opening giving a maximum opening width of 1050mm
---
MiniStor Multi-purpose Storage Unit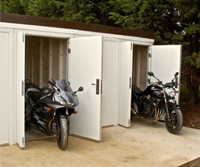 The ideal solution for those smaller but valuable items such as:-
Mobility Vehicles
Wheelie Bins
Tools
Play Equipment
Garden Machinery & Equipment
Constructed of reinforced interlocking concrete panels
Fort Knox high security, 3-point, 9-bolt locking 50mm, double skinned steel door with an attractive brushed steel handle and stainless steel cill
15 Year Structural Guarantee
---